The ongoing issues in the Tasmanian Public Hospital system continue to dominate the news media when it comes to health care. Not only is access to care for the Tasmanian Community an ongoing issue, but the health and well-being of the health professionals struggling within that system to provide care is becoming an increasingly important issue. Occupational Medicine surely has something to offer here. From the perspective of occupational medicine, the last 2 weeks have also been quite eventful (but perhaps not quite so newsworthy) with the Tasmanian Physician's Conference and the occupational medicine dinner meeting in Launceston on 08 November. At the Conference, Professor Niki Ellis (prominent occupational physician and now RACP Board member) explained some of the changes within RACP to ensure more transparent and accountable management of the College. Lawyer, Fleur Dewhurst reminded attendees about their legal obligations, especially in relation to advertising and social media. I was able to present my experience from working at the medico-legal interface and discuss the challenges for doctors working within compensation systems and the issues raised by IME assessments. The session on continuing professional development highlighted the value of the EVOLVE programme to evaluate your own practice. The top 5 low-value practices and interventions for OEM are: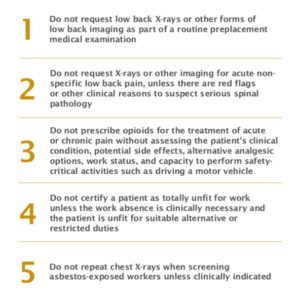 At the dinner meeting we had a constructive discussion about co-operation between Tasmanian OEM practices to achieve an optimum training experience for trainees. More on this in future newsletters as the initiates take shape.
Law Society of Tasmania
Medico-legal Communications Protocol Working Group
The Law Society in conjunction with the AMA plans to establish a working group to produce a Code of Conduct / Communications Protocol to improve service and communication between professions in medico-legal matters. The Law Society hopes this initiative will get under way later this month with the formation of a small working group made up of doctors and lawyers.
What's On
Barry has alerted us that the ANZSOM (Australian and New Zealand Society of Occupational Medicine) are running their national conference in Launceston next year from 19-22 March 2020 at the Pepper's Silo Resort. The draft programme includes presentations by Dr Andreas Ernst, Dr Barry Gilbert, Dr Rob McCartney and Dr Tim Stewart with plans for multiple workplace visits and opportunities for training in audiometric skills and making presentations. More details as they come to hand.
ANZSOM are also hosting ICOH 2021 in Melbourne.
I am still seeking contributions for future newsletters.
Peter Sharman