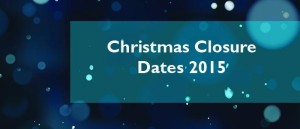 Hobart Occupational Medicine will be closed over the holiday period from Monday 21 December and re-open on Monday 11 January 2016 for business as usual.
Dr Crowell will be in attendance at the practice on the morning of 06 January 2015, but Dr Sharman will not resume consulting until 11 January 2016.
If you are a patient of the practice and require medical attention during the closure period contact your general practitioner in the first instance. For urgent matters Dr Sharman can be contacted by email (psharman@201davey.com.au) or if the matter is very urgent leave a message on his mobile voicemail (0419881519).
Our doctors and staff wish you an enjoyable Festive Season!