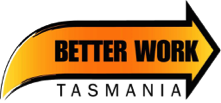 I attended a Better Work Tasmania Networking Session on Friday 24 February. Not only was it a valuable networking opportunity with the many employers represented, but an opportunity to hear presentations by organisational psychologist, Dr Angela Martin, lawyer, Mr David Dilger and Mr Stephen Dowling from Delivering Safe Production & Services.
The session provided information about how to make workplaces mentally healthier and identify and help those employees in need. The presentation by David Dilger, in particular, described an approach to avoid an adversarial legal approach to exit from employment any worker with any sign of psychological "unwellness", rather adopt a supportive helpful strategy aimed at preserving employment.
I was able to ask the Expert Panel at the the end of the session about the role of our workers' compensation systems in creating Mentally Healthy Workplaces. The consensus seemed to be that initiatives by an employer to create a mentally healthy workplace and prevent psychological ill health was far better that relying on our compensation systems for support. Stephen Dowling did suggest that Tasmania, overall was ahead of the "Mainland" with Mental Health Strategies in the Workplace and also suggested that our compensation systems have overall better outcomes that those interstate.
Employers can become members of Better Work Tasmania for free.
See their website: http://www.betterwork.tas.gov.au